THE PROJECTS
//

SHOWCASE OF OUR PROJECTS.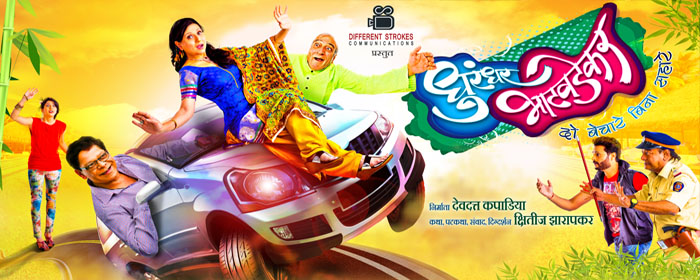 Dhurandhar Bhatawdekar | 2015
A Marathi Film
This is very simple concept based on the differences between personalities of people. As such most concepts dwell on exactly this aspect of human relationships. Dhurandhar Bhatawdekar however goes further than merely just apositioning personalities. It deals with the interaction of these personalities with situations and events. A small part of the concept is the coming together of two diversely opposite characters and the comedy generated through sheer confrontations. But more importantly the film deals with the manner in which the two central characters deal with situations presented to them in the regular course of life individually and together. The age of the central characters is also such that they are lovable old buffoons and therefore would strike an immediate chord with the audiences.

The setup which uses a well equipped five-star colony for senior citizens as the main location, provides the much needed departure from regular drawing room and office related comedies. Also the set of main characters in the film have a different kind of relationship with each other. This is also a departure from the regular domestic relationships in Marathi Cinema. The possibilities presented by this very strikingly different set of relationships are plenty.

Dhurandhar and Bhatawdekar are diametrically opposite personalities made to live in a room as roommates in this facility administered by an attractive 55 year old Mrs. Damle. Three levels of romances are foreseen with various age groups. A juvenile love track of 20 somethings in the form of Mrs. Damle's daughter and her fiancé from college, a more regular middle aged romance of Dr. Patkar and the gym trainer Fiona Gonsalves and a very mature romantic triangle of the two central protagonists with Mrs. Damle.

This however transcends into a sort of a Tom and Jerry situation with Dhurandhar and Bhatawdekar pitted against each- other in a romantic battle to get the girl. The rest of the cast supports either one in this battle. The film deals with some pertinent issues of senior citizens as well albeit in a very funny manner.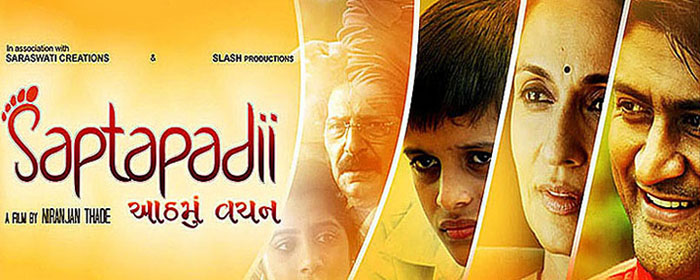 Saptapadii | 2013
A Gujarati Film
The story traces how a businessman Sid (Siddharth) and his wife Swati drift apart due to her passionate attempts to cure a 9 year old traumatized child and Sid's obsession with expanding his business empire. The child is living at a retreat in Saputara, India, where the manager of the retreat, Dr. Patrawala, tells Swati of the reason the child is bought to his retreat, adding an element of suspense.

Intense arguments erupt when Sid finds out that Swati's involvement with the child can have disastrous consequences for his business and family life. He tries to explain this to Swati who refuses to see his point of view. Both separate on these arguments. Their daughter studying in USA makes her best effort to bring them together. Eventually, Swati's determination makes Sid think about life and living for others, changing him from a businessman focused totally on his money, business and success, to a businessman sensitive and responsible to the society around him.

The story is inspired from real-life experiences of the film's female lead Swaroop Sampat. She has been working with disabled children in rural Gujarat (a western state of India) for many years. A former Miss India, model, theatre, TV and film actress, Swaroop got away from her glamourous life and went to Worcester UK, to do a P.H.D. in "training teachers in teaching dyslexic children via education through drama." Now she works on a regular basis in tribal areas of Gujarat.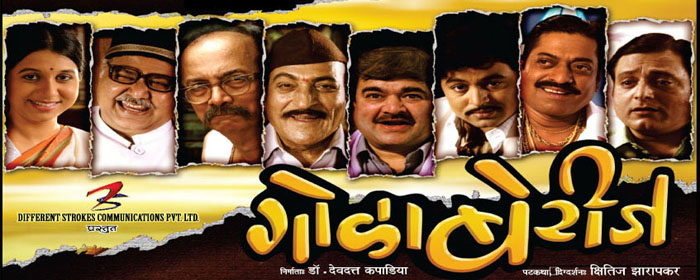 Golaberij | 2012
A Marathi Film
Different Strokes Communication has shouldered the responsibility to pay tribute to Maharashtra's most respected and versatile personality and legend, Shri Purushottam Laxman Deshpande (popularly known as Pu.La.) through their first Marathi film, titled GOLABERIJ.

This mega budget and multi-star cast film is a semi-fictional biography of Pu.La. where he himself encounters the popular characters created by him in his literature (characters such as, Antu Barva, Hari Tatya, Sakharam Ghatney, Rao Saheb and many others ) at various stages of his life. It's an inference of what could have been the journey of the writer's life based on his writings comprising of 27 books and documentaries and 5 feature films.

This unique task to bring together these different characters portrayed by Pu.La. on the silver screen has been conceptualized, written and directed by Kshitij Zarapkar and produced by Dr. Devdatt Kapadia. CAST SATISH SHAH, DILIP PRABHAWALKAR, DR. MOHAN AGASHE, SANJAY NARVEKAR, AVINASH NARKAR, SUBODH BHAVE, MANOJ JOSHI, MUKTA BARVE, BHARGAVI CHIRMULE, PRASAD OAK, SHARAD PONKSHE, PUSHKAR SHROTRI, HEMANGI KAVI, VAIBHAV MANGLE, SATISH PULEKAR, ABHIJIT CHAVAN, JAYAWANT WADKAR, VIDYADHAR JOSHI, KSHITIJ ZARAPKAR, KAMALAKAR SATPUTE, BHALCHANDRA KADAM, VIKAS PATIL, DUSHYANT WAGH, SANJAY SUGAVKAR, MANOJ TAKANE, PRANALI LONDHE AND OTHERS. NIKHIL RATNAPRAKHI AS P.L. DESHPANDE. NEHA DESHPANDE AS SUNITABAI DESHPANDE.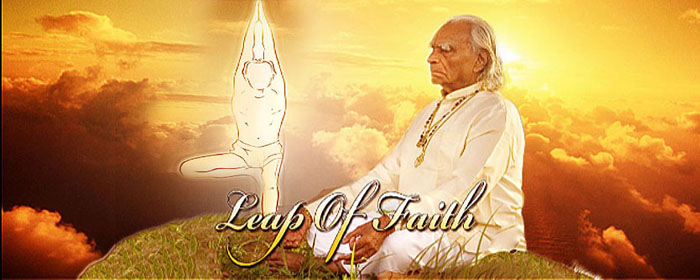 Leap of Faith | 2009
An English Documentary
'Leap of Faith' is the true story of how this puny little boy became the worldwide phenomenon of BKS Iyengar, bringing health and happiness to millions across the globe. It's an adventure like no other because it's the story of how one, so deeply affected by physical malaise, undertook the journey within, curing all his physical ailments and infirmities with the precision of a surgeon excelling in the science of Yoga;transforming the body right down to the cells through the scalpel of incisive attentive awareness. In so doing, he discovered new worlds within, arriving at the zenith of the Yogic adventure, the very core of his being: the blissful state of pure consciousness.

B.K.S. Iyengar is a Yogi, a philosopher, a scientist and an artist, whose name is synonymous with precision and perfection in Yoga. His book 'Light on Yoga' is the bible of Yoga. 'Leap of Faith' peeps into the endearingly simple lifestyle of this extraordinary man. It is a saga of courage and faith, of chance meetings on chosen paths, of perseverance in the face of insurmountable hurdles, of the triumph of the human spirit and it's union with the divine consciousness.

His Leap of Faith will inspire you to embark on a journey that will change your life forever.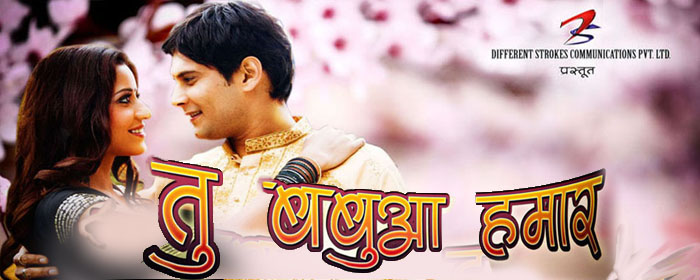 Tu Babuaa Hamaar | 2008
A Bhojpuri Film
A small town youth (Amar Upadhyay) who goes to the city to study, finds on returning his whole family shot dead in front of their house. The story revolves around his search for the killers and seeking revenge. Supported by his girlfriend (Monalisa) and his childhood friend (Praveen Sisodiya), and taken under the wings of a dubious politician, this action-romance flick keeps you on the edge of your seat throughout.